Many drivers in Baton Rouge, Gonzales, and Lafayette are intrigued by the idea of owning or leasing a luxury crossover or SUV. From sleek interior appointments to a wide range of technologies, you'll find a ride that's equal parts comfy and capable at our dealership.
Your search for the perfect ride may lead you right into the Land Rover vs. Range Rover debate. The Range Rover is a sub-brand and model of the Land Rover brand, but the two have key differences that may appeal to different shoppers. As always, your friends at Land Rover Baton Rouge are here to explain!
Land Rover vs Range Rover: Performance Specs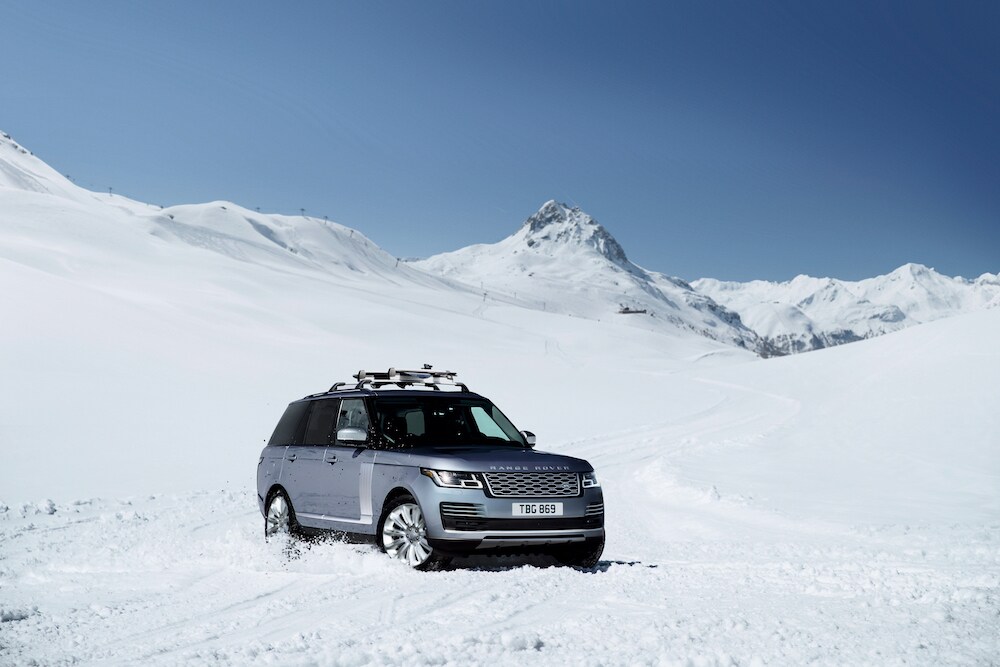 The Land Rover Discovery model is the base vehicle (replacing the LR4 of years past), and the Range Rover is the standard model of the sub-brand's lineup. You can also get a Discovery Sport from Land Rover, or an Evoque, Sport, or Velar from Range Rover, but we'll focus mainly on the two flagship models here.
Under the hood of the Land Rover Discovery, you'll find either a 3.0L gasoline V6 engine (340 horsepower and 332 lb-ft of torque) for maximum power delivery or a 3.0L turbodiesel V6 engine (254 horsepower and 443 lb-ft of torque) for serene off-roading and towing.
You'll find the exact same engines available in the Range Rover, though you can find a more powerful V8 in the Sport model. All engines come with start-stop technology, helping you conserve energy when you're stopped at a light or stalled in traffic.   
Towing & Hauling Capabilities
When the Land Rover Discovery and Range Rover apply all their respective power, they're able to accomplish a laundry list of tasks. The Range Rover, for instance, can tow up to 7,716 pounds, while the Discovery offers an even higher max towing capacity of 8,200 pounds. So, you can easily hook up a trailer and head out for some outdoors adventure courtesy of either model.
Depending on whether you choose the short or long wheelbase, the Range Rover will give you up to 68.6 cubic feet or 75.6 cubic feet with the rear seats folded-plenty of room for bikes, camping gear, and more. If you need the extra space, the Land Rover Discovery offers even more:  88.3 cubic feet with rear seats folded.
Range Rover vs Land Rover: Interiors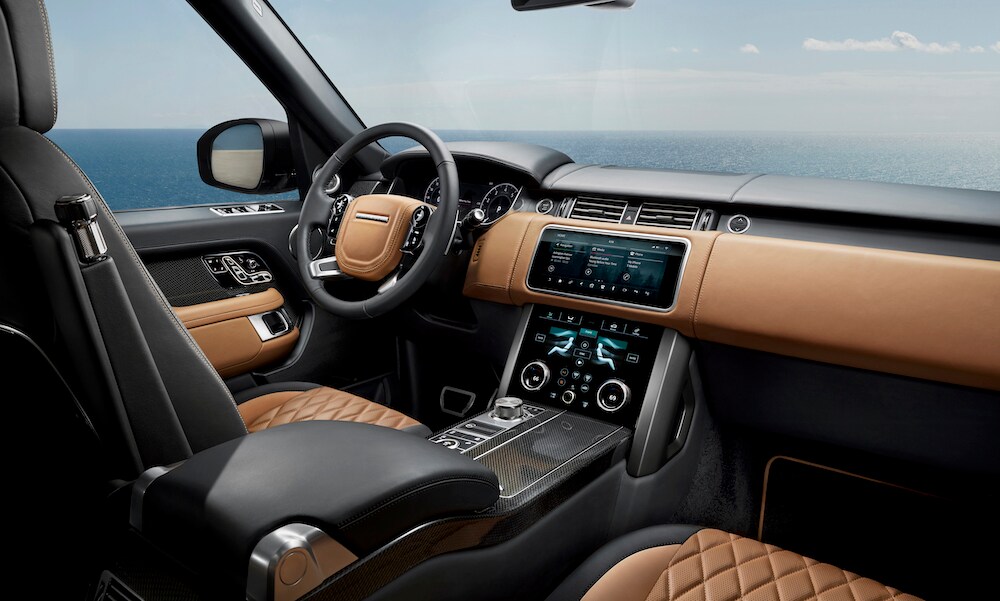 When it comes to space for people, the Land Rover Discovery and Range Rover each make plenty of room, but in different ways. The Land Rover offers seating for up to seven people across three rows (though five across two rows is standard in some trims), letting you bring more friends and family along for the ride.
Both vehicles are adult-friendly across all rows. Both vehicles also offer roughly 42.5 inches of legroom up front and give taller drivers and passengers plenty of room to spread out. In the second row, the Range Rover is a bit more spacious with legroom measuring 40.2 inches compared to the Discovery's 37.6 inches, but each can seat adults easily.
The Discovery's smaller second-row legroom conserves space for the available third row, where you'll find 33.5 inches of legroom. That's spacious enough for most adults, especially in a pinch, but for longer rides, it's perfectly suited to keep kids comfortable. 
Range Rover vs Land Rover: Exterior Styling
The exquisite exterior stylings of the Land Rover Discovery and Range Rover quickly capture the attention of both fellow motorists and pedestrians.
Bold lines and a unique shape categorize each SUV, along with a number of customizable traits allow you to flaunt your specific tastes. Unique packages are also available, adding to the overall variety and aiding in your pursuit of specific looks whether you're hoping for a rugged, off-road beast or a refined, urban chariot.
Infotainment & Driver-Assistance Technology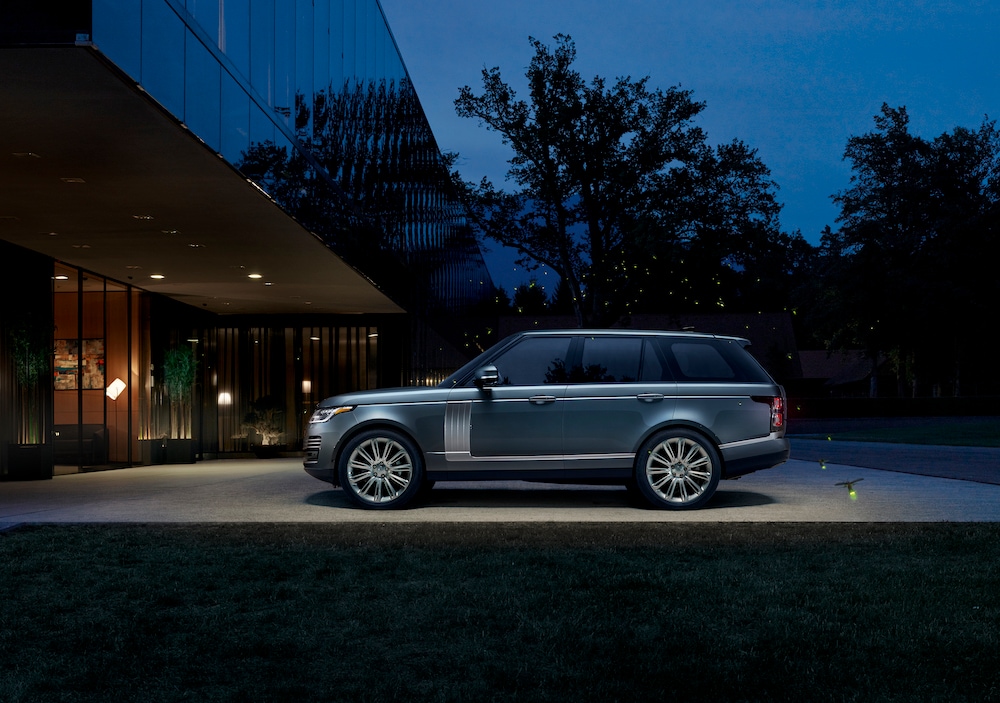 Both Land Rover and Range Rover have developed a sterling reputation for technological advances that extend into safety and infotainment.
Take, for example, the connectivity of each model. They both allow you to pair your smartphone with the vehicle, giving you quick and easy access to apps, navigation, and payload using voice-recognition software or a touchscreen display.
No matter what you may enjoy, the immersive sound systems will enhance your travels by flooding the cabin with crystal-clear audio.
As for driver-assistance technology, Land Rover and Range Rover look out for your well-being with traits that alert you to front-facing collisions, departures from your respective lane, and obstacles blocking your path when reversing from a tight parking spot. There's also the inclusion of autonomous braking, meaning your vehicle will attempt to decelerate on its own if a front-facing collision seems imminent.
Land Rover vs Range Rover: Which Will You Choose?
As you can see, in a Land Rover vs. Range Rover head-to-head, these luxury SUVs have qualities that may be appealing to different sets of shoppers-but with plenty of overlap! You'll have to decide what qualities you want in a utility vehicle before you choose.
If you live near Baton Rouge, Gonzales, or Lafayette, set up a test drive of both at Land Rover Baton Rouge!