You can receive quick and effective Land Rover service near Baton Rouge, LA, by stopping into the Land Rover Baton Rouge Service Center. We continually work to improve our service shop over time, so we may deliver the exact care your Land Rover deserves. Currently, our facility is brimming with new-age technology, and each procedure is guided along by a group of certified technicians.

We have a parts center filled with Land Rover-specific pieces, plus a range of additional resources you can look to, as well, when your model requires a tune-up!
---
Routine Care for Your Land Rover
The exceptional build quality of Land Rover models helps them appeal to folks from every walk of life. No matter the Land Rover model you drive, there is going to be a sampling of routine care items required to keep it running at its best.
If you get in touch with our technicians, they can lay out a plan for you that covers all your service needs, from oil changes and brake repairs to part replacements.
Your specific driving habits are going to play some small role in the service needs of your Land Rover too. If you have questions about how to best keep your SUV in good condition, begin speaking with one of our technicians!
---
Replacing Parts, Repairing Dents, and More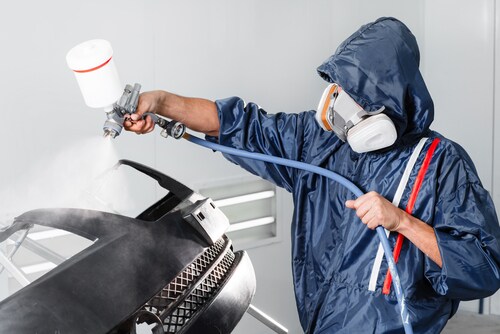 In addition to keeping up with the regular wear and tear needs of any vehicle, our luxury car service center can also provide tailored service that matches the exact needs of your Land Rover.
Let's say you've recently been in an accident. It happens sometimes, and if it does, you can trust our technicians to deliver. Along with repairing any exterior blemishes which may have occurred, we'll take a thorough look at the undercarriage of the model. The goal after an accident is to ensure reliability and safety, along with returning your model to its previously impeccable styling.
The parts center we have access to plays a large role in these repairs as well. No matter the piece your model requires, we can quickly secure the right fit and have it installed!
---
Online Tools and Discounts
When you look through our online service center resources, you'll find a number of helpful tools and enticing options. The coupons and discounts we regularly roll out through the year apply to everything from a new set of tires to an oil change.
Also, when booking your visit, you can turn to the online scheduling tool. Merely book a time that fits your schedule and our technicians will begin to prepare for your arrival!
---
Receive Land Rover Service near Baton Rouge Louisiana

If you've been on the lookout for a shop to service your Land Rover model, turn to Land Rover Baton Rouge. We have a shop full of technology and a team of certified technicians waiting for you. If you have questions about servicing a Land Rover, you can give us a call today!