Leasing a great option for Land Rover shoppers in Baton Rouge, Gonzales, and Lafayette. That's why we at Land Rover Baton Rouge have created a wide range of new Land Rover lease deals including Land Rover lease deals that fit any budget.
On this page, you'll find more information about the benefits of leasing, our friendly finance team, and our exciting Land Rover lease specials. Read ahead to learn more!
The Benefits a Land Rover Lease
There are many benefits to leasing your next Land Rover vehicle. Leasing your next Land Rover may be a good option for you if you're interested in:
Lower monthly payments so you can live comfortably in your next Land Rover vehicle
Lower or no down payment when you come in to do your financing paperwork
Flexible leasing terms that you can customize to fit your personal needs
A stress-free return process that allows you to seamless switch from one model to another
Driving the newest models with the most up-to-date features on the market
Peace of mind via a factory warranty coverage throughout your entire lease term
If any of these aspects sound good to you, then leasing is a great option for you. These are just some of the benefits you'll when leasing a Land Rover with us. You'll also enjoy the personal touch of a dedicated finance team, which you can read more about below.
Our Helpful Leasing Services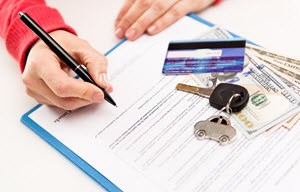 When you come to us for your next Land Rover lease, you can count on working with a team that cares about your needs. Our friendly finance team specializes in taking the personal needs of each customer and working with them to create the perfect payment plan.
One of our finance professionals will sit down with you to learn more about what you need out of a Land Rover lease special. They'll discuss with you how long to make your lease term, what your budget looks like, and much more. They'll leave no detail undiscussed so that you feel confident about your Land Rover lease.
Our Land Rover Lease Deals
Our Land Rover lease deals are designed to help you fit a Land Rover into any lifestyle or budget that you bring to us. Leasing your next Land Rover using one of our lease specials will open doors for you to expand your budget and get the vehicle that you truly want.
Each of our Land Rover lease specials is designed for a specific Land Rover model, like the Land Rover Range Rover for instance. Pick out the perfect model for your lifestyle and we'll be able to pair you with a lease deal that fits your needs.
Get Shopping with Us Today!
Now that you know a bit more about what we at Land Rover Baton Rouge have to offer with our Land Rover leases and lease specials, we hope you're ready to get started with us. Shoppers in Baton Rouge, Gonzales, and Lafayette should contact us today to set up a time to come in and meet us!