The Land Rover Discovery and Toyota Land Cruiser are two highly capable SUVs that have a lot to offer adventurous types in the Baton Rouge, Gonzales, and Lafayette areas. While either vehicle would be a great option, the team at Land Rover Baton Rouge wanted to find out which is the better pick for area drivers. So, we compared the Land Rover Discovery vs. Land Cruiser side-by-side to get our answer.
Land Rover Discovery vs Land Cruiser Handling Capabilities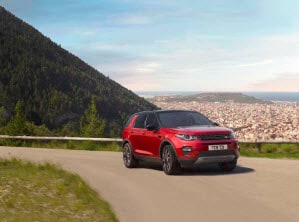 Both the Land Rover Discovery and Toyota Land Cruiser are known for taking on tough terrain and tackling difficult obstacles, so you can expect impressive handling capabilities from each. Both SUVs come equipped with a smart 4-wheel drive system that automatically redistributes torque between the front and rear wheels as necessary to optimize traction and efficiency.
They both take this a step further by allowing you to select different drive modes depending on the terrain you're facing down, including rock, mud, and sand. However, if drivers find themselves in a really tight spot, they may be more prepared to take it on in the Discovery, which makes All Terrain Progress Control available.
This system helps you out of challenging conditions, like flooded roadways or marshlands by acting as a kind of low-speed cruise control. You set a desired speed between 1 and 18 MPH, then focus your attention on steering and navigation while your SUV works to maintain traction and speed.
Without this kind of a feature, drivers in the Land Cruiser may struggle with especially tough terrain.
Related Posts: 2019 Land Rover Discovery Review | 2018 Land Rover Discovery Review
Discovery vs Land Cruiser: Smart Safety Features
While both the Land Rover Discovery and Land Cruiser certainly drive hard, they also drive smart by making several safety technologies available. For example, they both have an available automatic cruise control feature that automatically adjusts your cruising speed to go with the flow of traffic.
They also both make a Forward Collision Mitigation System available, which warns you of potential hazards on the road up ahead. The Land Rover Discovery, however, takes this level of safety a step further by offering an available Driver Condition Monitor.
This system monitors your driving patterns for erratic driving, swaying, or swerving and issues an alert if it senses you may need to take a rest. This is especially useful on long road trips when you've been driving for a while. Unfortunately, a comparable system is not available in the Toyota.
Related Post: 2018 Land Rover Discovery Safety Features
Infotainment Technology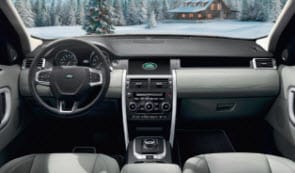 If you're on a long trip in either the Land Rover Discovery or Toyota Land Cruiser, you'll have several infotainment features to keep the whole car entertained and informed along the way. Both SUVs offer an available rear seat entertainment system so that passengers can relax and stream content or watch DVDs en route to their destination.
The Cruiser also helps the driver stay informed with the available Head-Up Display. This display projects important information like vehicle speed, speed limits, incoming calls, and turn-by-turn navigation, directly onto the lower portion of the windshield. This way the driver can stay updated without having to remove their eyes from the road ahead.
Without this feature, drivers in the Land Cruiser may find themselves taking their eyes off the road more often to retrieve important information.
Related Post: 2018 Land Rover Discovery Interior Review
Land Rover Discover vs Land Cruiser: Which is Right for You?
After comparing the Land Rover Discovery vs. Land Cruiser, the team at Land Rover Baton Rouge found that the Discovery offered more of the features drivers need in the Gonzales and Lafayette areas. If you want to see this SUV for yourself, visit our dealership near Baton Rouge and take it for a test drive.
Contact us to test drive the Land Rover Discovery today!