At Land Rover Baton Rouge, our finance team helps many customers decide whether they should buy or lease their next Land Rover vehicle. This is an important question, and the answer is completely dependent on what you need from your next car.
That's why we created this buy vs lease guide for our customers in the Baton Rouge, Gonzales, and Lafayette areas who need a hand with this decision.
Should You Buy a Car?
Buying a car is a good choice if you want your monthly payments to go towards ownership. This option also gives you the most flexibility. There are four factors you should consider:
Cost: One important thing to consider when financing a car is your budget and how much you'll pay monthly. Buying a car tends to mean a higher payment than you'd have if you leased the same car because you're financing the entire cost of the vehicle, so take that into account.
Ownership: While the monthly payments may be a bit higher, every payment you make goes towards equity in your car. This means that, at the end of the process, you own a car. Plus, when you're finished paying off your loan, you'll no longer have a car payment until you decide to trade your car in for the next one. 
Depreciation: Keep in mind, however, that most used cars experience an approximate 20% depreciation in their first year. This means that the longer you hang on to your car, the less value it will retain.
Flexibility: Still, owning a car means that you're free to do with it as you please. You can upgrade it however you see fit, drive as many miles as you need without restrictions, and you're free to trade it in at any point, even if you're still paying off your loan.
Should You Lease a Car?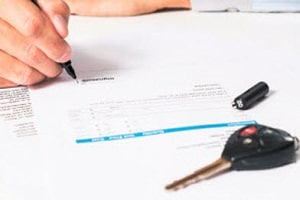 Leasing a car is a great option for drivers who want to try before they buy or those who like to regularly and easily upgrade their ride. There are also four considerations here:
Monthly Payments: One of the main reasons people decide to lease a car is the lower monthly payment. Since lessees are only financing the car for three years, they're not responsible for the vehicle's full price, so the payments tend to be much lower each month. This means that you can put the extra budget towards a trim upgrade or a new technology feature.
Ownership: While the lower payments are a great perk, do keep in mind that you're not paying towards ownership and will not have any equity in the vehicle.
Restrictions: Also, since you won't own the car, your lease may come with more restrictions. For example, all upgrades need to be removable at the end of the lease. You may also be limited to an agreed-upon yearly mileage. You will likely be held to your lease terms as well, meaning if you want to try something new, you won't be able to trade in your vehicle until the end of your lease.
Variety/Trading Up: However, if you're someone who likes to regularly drive the most up-to-date models with the newest technology and safety features, leasing a car is an easy way to do that. When your lease comes to an end, you won't have to worry about selling your car; simply head to the dealership and pick out your next model. This is also a great way to try many different models over the course of a couple years to find the one that you want to stick with long-term.
Buy vs Lease: Which is Right for You?
If you're not sure whether you want to buy or lease your next car, come speak to the Land Rover Baton Rouge Finance Center team and they can help you determine which is the right move for you.
Drivers in the Baton Rouge, Gonzales, or Lafayette areas can contact us to learn more about buying vs leasing today!